At Transition Solutions, we've been helping companies and individuals with workforce changes for 30 years.
A message from our General Manager, Donna Sullivan
In the spirit of the upcoming season of giving, we'd like to invite you to join us for a 3-part FREE mini-webinar series in December for individuals looking for tips to jump start their job search and find their next role.

Part 1: Tips to Job Searching During 2020 Holiday Season (December 3rd) – Click HERE to register.
Many job seekers pause their job search during the holidays, thinking companies stop hiring. That's not true! Learn from experts on how to maximize your job search efforts through December and make the most of networking opportunities.

Part 2: Nailing a Virtual Interview (December 10th) – Click HERE to register
In today's environment, most interviews are virtual. Learn how to successfully prepare and engage virtually.

Part 3: 10 Steps to a Better LinkedIn Profile (December 17th) – Click HERE to register
Just having a LinkedIn profile is not enough in today's competitive job market. Learn 10 steps on how to improve your profile to help you stand out from the crowd.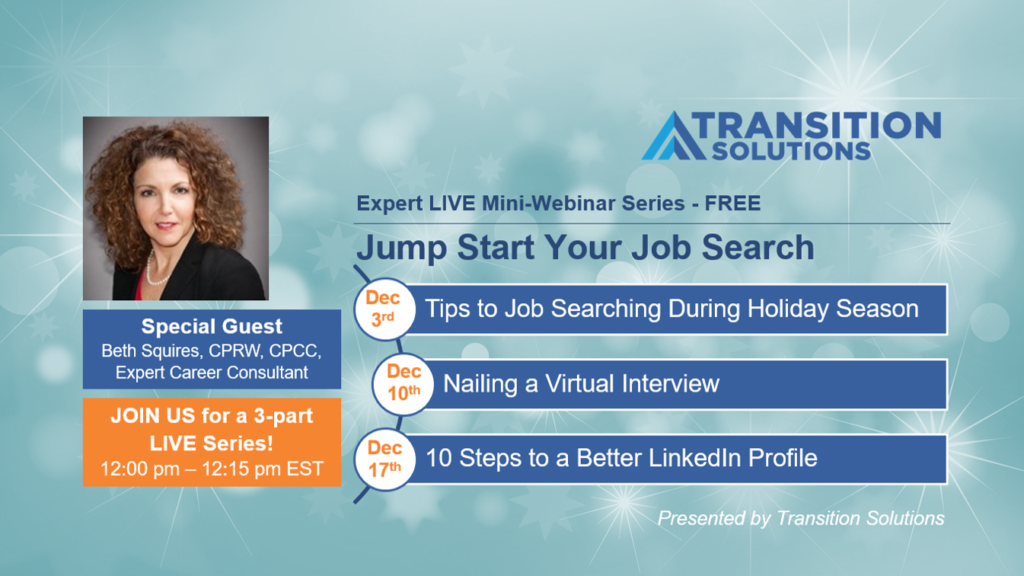 Please leverage the links above to register for webinars. We look forward to having you join us!