Are you leveraging your network in your job search?
At Transition Solutions, we have been helping companies and individuals with workforce changes for 30 years. We coach our clients about the total job market when it comes to job searching as outlined in the graphic below.
The total job market includes formal jobs that are found through posted jobs. The informal market, where the majority of individuals find their next career move, are jobs that are not yet posted but identified based on network connections.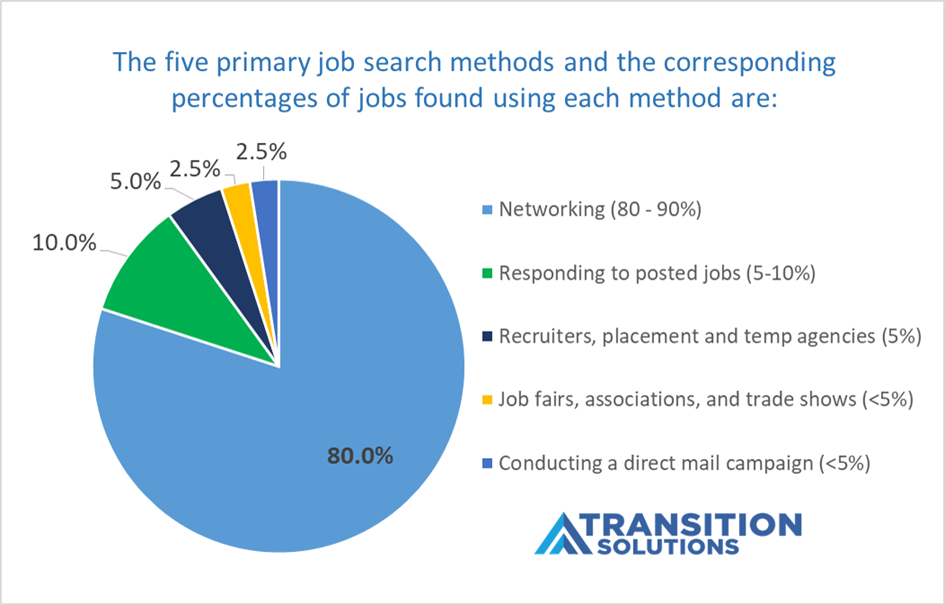 Networking is a frequently misunderstood process.
Among the misconceptions are:
You must know your network contact.
The network contact must be someone who has the authority to offer you a job.
The network contact must be in your field of specialty.
The truth is a network contact can be anyone! Networking is nothing more than making contact – either face-to-face or by mail, e-mail or over the telephone – with anyone who can give you information. The operative word is information that leads you to job opportunities and decision makers. It is not about handing an acquaintance a copy of your resume and asking for either a job or a call if s/he hears of anything.
Networking is the single most effective source of job opportunities; yet, many avoid doing it because it is uncomfortable to ask someone for help, the belief that it is an imposition on others, or fear of being rejected by a network contact.
Yes, some may reject you; however, the majority will help you. Why?
Many people who have been helped themselves through networking are happy to assist others.
People are flattered when you ask their advice.
People usually respond when you can connect them to someone you both know.
So, what if you are rejected? Brush it off and move on!
There should be no ambiguity about what you're doing, job-search networking is about being honest about your situation – yes you are looking for a job, but not using it as a pretext for a meeting and then ambushing the other person by asking them for a job. This is called "pitch and switch" and most job seekers are horrified at the thought of having to do it; and a lot of people who've experienced this behavior from job seekers are skeptical and resistant to meet job seekers, which quite frankly can you blame them?
Here are some more facts about job search networking:
Job search networking is not about making cold calls to strangers.
Job search networking is talking with people who have expressed an interest in helping you with your search.
It is NOT asking people for a job. It is NOT begging.
It's not about using tricks or lies to get meetings.
Job search networking is not about morphing yourself into a high-pressure sales person, in fact if you are not being yourself, and doing it your way, then it'll feel wrong and you won't come across as genuine; another red-flag in the other persons mind. Not everyone you meet will become a friend or future contact.
Networking is communicating and building relationships, in fact a better name for it would be, "talking with other people." In fact, if you're thinking "but this is what I do every day anyway", then you're correct! The only difference is your conversations will include gathering and passing on information about companies, industries, names and jobs, as well as the other things you talk about.
The goal of job search networking is to find that person (the decision maker) who can give you your next exciting position (the hidden job), and everything you do (gather and share information) needs to be focused on expanding your network (get referrals to others) until you find The Right One (person, industry, company and job). Remember we are not asking for help we are asking for and sharing information.
Overall, investing in networking efforts to identify jobs in the informal job market will help you throughout your career.
At Transition Solutions, we have been helping companies and individuals with workforce changes for thirty years. Our strong reputation for consistently delivering exceptional service at value sets us apart. If you would like more information on our services please check out our website at https://www.transitionsolutions.com/ or you can contact us directly at 888-424-0003 or email us at info@transitionsolutions.com.