Did you know that the top portion of your resume is often the most important section?
At Transition Solutions we've been helping our clients navigate workforce changes for over 30 years. The resume remains essential today and the objective of a resume is to get the interview.
The first place gatekeepers start is the top of your resume. You typically have 5-10 seconds to convince them you are a potential candidate for the job so they keep reading. As you'll see in the example below, we suggest you include your overall job title you are seeking above your summary. Ideally, this matches the job you are applying for. You can also list key areas where you have experience related to your summary similar to the example below.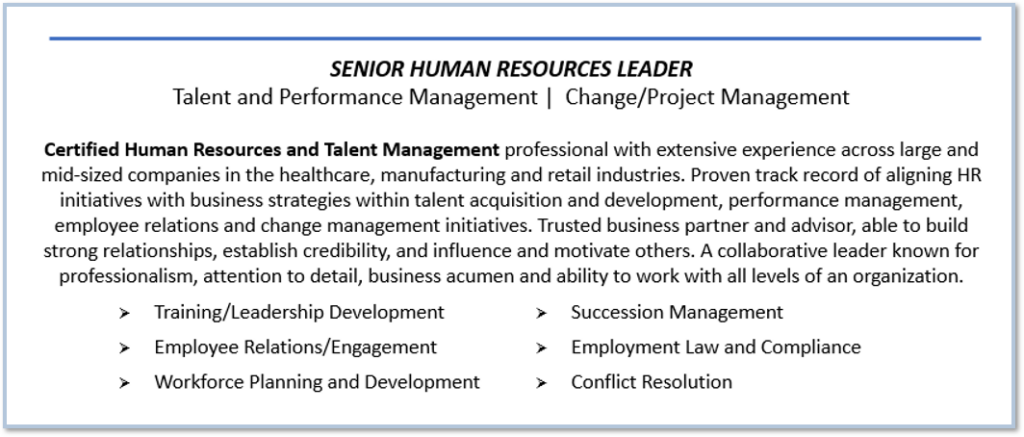 Next is the summary section that should be 3 to 4 sentences in length and describe your core skills and competencies. Use this instead of an objective statement. Consider the following in writing your summary:
Avoid clichés, fluff, and overused language such as "Dynamic executive," "Results-oriented professional," or "Excellent communication skills."
Create a "mini-resume" that could be a written version of your 30-60 second career commercial.
Reference specific accomplishment highlights
Include keyword competencies if you wish
Look for creative ways to present them
Review the job description and call out your key skills or experiences that are relevant to the specific job
Leverage a phrase like "extensive experience" versus "over 20 years of experience," to avoid dating yourself.
A well written summary section can also be leveraged within your LinkedIn profile summary and serve as the answer to the question, "So tell me about yourself." It's designed to position yourself and sell your most marketable skills. We recommend always customizing your summary to the job you are applying for to help you get the interview!
PRO TIP: Keep in mind with your resume, the answers to the test are in the job description! The more your resume reflects the requirements of the job you are applying for, the better chance you have breaking through to an interview.
At Transition Solutions, we are experts in helping our clients navigate workforce changes and career transitions. We have developed a robust personalized and customized approach to every situation. Our strong reputation for consistently delivering exceptional service at value sets us apart. If you would like more information about our services please check out our website at https://www.transitionsolutions.com or you can contact us directly at 888-424-0003 or email us at info@transitionsolutions.com