Are you stuck in your job search efforts and looking for more ways to find your ideal job?
At Transition Solutions, we have been helping companies and individuals with workforce changes for 30 years.
With a strong U.S. job market, now is a good time for job seekers looking for their next career opportunity. Per the Bureau of Labor Statistics graph below, job opening rates by industry are some of the highest they have been in over a decade.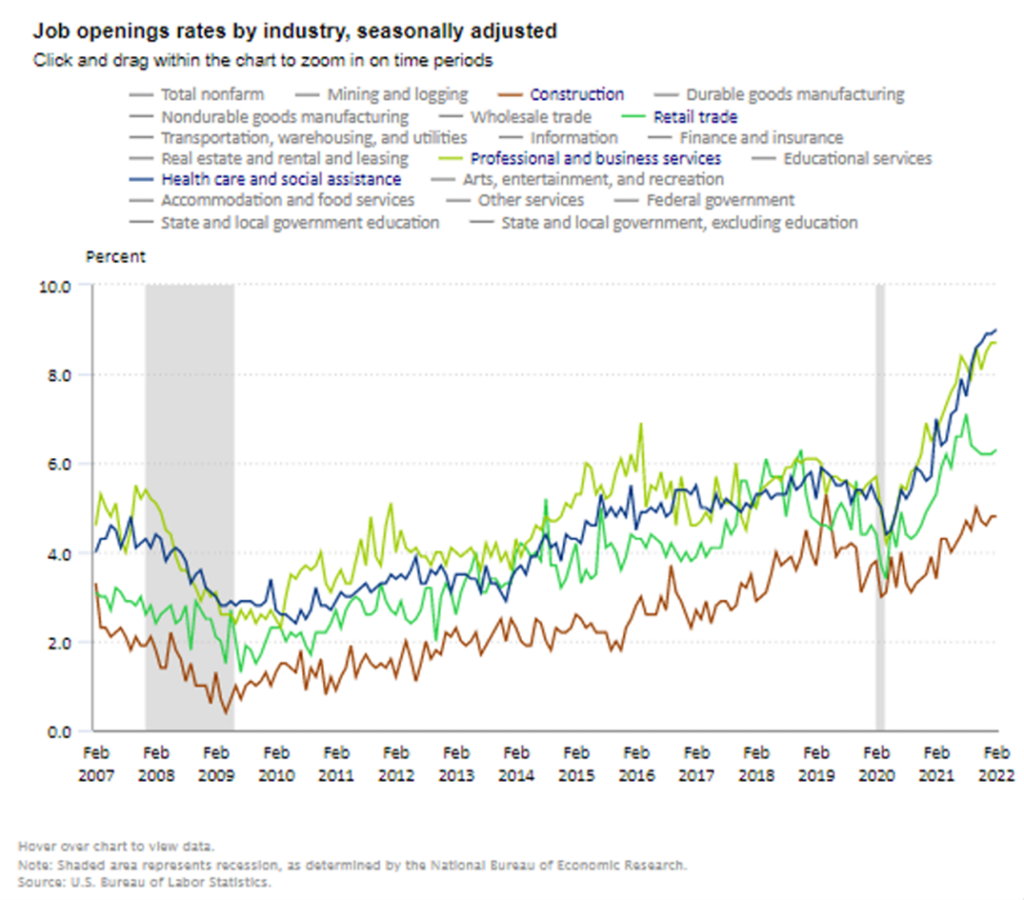 Need help finding your next job?
Here are some key strategies to help you land your next role.
Start with Your Network. Despite new technology making jobs easier than ever to find online, your network remains your best option for finding your dream job. In fact, we advise our clients that 80-90% of job seekers find their next job through their network. So, start reaching out to your past colleagues, family members, friends, community connections, etc. today! Tip: Make a list of all the people you know that might have knowledge or contacts in the industry or the company you want to apply with. Then reach out to them first. They can easily refer you or recommend to a key stakeholder in that company.
Job Search Websites. Job search websites compile listings of available job openings. Equipped with millions of listings and additional career resources, using a job website is a very popular and efficient ways to search for opportunities. The Balance Careers recently shared their ranking for the 10 Best Job Search Websites of 2022 listed below.
Best Overall: Indeed
Runner-Up, Best Overall: Monster
Best for Employer Research: Glassdoor
Best for Remote Jobs: FlexJobs
Best for Experienced Managers: Ladders
Best for Startup Jobs: AngelList
Best for Connecting Directly With Recruiters: LinkedIn
Best for Up-to-Date Listings: Getwork
Best for Recent College Graduates: Scouted
Best for Hourly Workers: Snagajob
Social Media. With millions of users, LinkedIn is the top social networking site for professionals. You can use it to identify and connect with people around the world working for companies or in industries where you would also like to work. Many organizations post jobs on LinkedIn and you can easily search and apply directly on the tool. Companies will also post opportunities on Twitter and Facebook. Tip: If you are using social media channels to find a job, you'll want to make sure your profiles are consistent, updated and reinforce an appropriate professional image.
Company's Website. Large companies especially may rely heavily on their website to promote job opportunities. You can search and apply for open jobs directly on the websites of your target companies. Many allow you to upload your current resume, save job search preferences and create job search alerts so you can find out about new opportunities as soon as they are posted.  
Career Fairs. A career fair is an event where multiple recruiters, hiring managers and employers can meet with potential employees in one convenient location. Career fairs are commonly held in schools, community centers and at job conventions. They can also be conducted online using virtual technology methods, like video chats and computer screen-sharing. You can find local and virtual career fairs via Google search or your local Chamber of Commerce and tech schools. Have your resume and elevator pitch ready to make a great first impression.
Finding your next opportunity can be exciting and challenging. Our suggestion is to apply a combined approach of the strategies above to help you find your ideal job.
At Transition Solutions, we have been helping companies and individuals with workforce changes for thirty years. Our strong reputation for consistently delivering exceptional service at value sets us apart. If you would like more information on our services please check out our website at https://www.transitionsolutions.com/ or you can contact us directly at 888-424-0003 or email us at info@transitionsolutions.com.